Benchmark for long distance transport, the DAF XF with powerful multi-torque PACCAR engines, the latest generation TraXon gearboxes, and optimised steering, is developed for maximum transport efficiency. The ultra-modern exterior design makes it the most attractive long-distance truck on the road.
Inspired by DAF Transport Efficiency philosophy, this industry leading XF exceed your expectation on reliability, industry-leading fuel economy, driver comfort. Versatility with optimised drivelines and advanced safety systems drive Pure Excellence.
Sophisticated exterior design
Thanks to the premium exterior, this DAF hallmark is the most stunning truck on the road. The refreshed design features contribute to the excellent aerodynamics to enhance your transport efficiency.
Optimised aerodynamics
Modern and sophisticated design
New sun visor for great exterior appeal
Large panel area for company name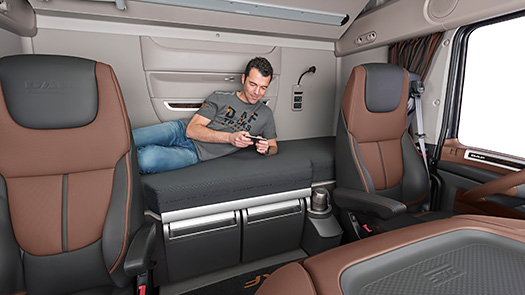 Class leading interior cabin
Design and built with excellent standards, the DAF XF interior is the talk of the town. Offering the most spacious interior in the market and smart positioning of vehicle electronics switches, it adds to great driver comfort and vehicle efficiency.
Superior interior lighting
Best comfort climate control
Outstanding interior lighting
Better driver information
Driver configurable switches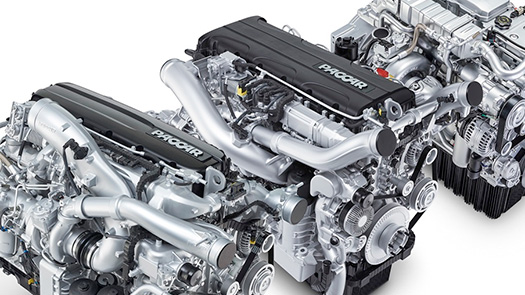 Driveline excellence
Market-leading fuel efficiency starts with the engine. Powered by multi-torque PACCAR MX-11 and MX-13 engines with new power ratings, the DAF XF includes an extra powerful 390 kW/530 hp variant. Thanks to the many innovations, you can now enjoy more torque at lower rpm for highest fuel efficiency. Vehicles can now cruise at 1,000 rpm with noise levels at its lowest. Additional torque is available in top gear for great drivability. The new MX engine brake delivers astonishing braking power at lower revs.
Higher performance gearbox
Lower R&M
Leading efficiency rear axles
Extended Eco mode
Innovative engines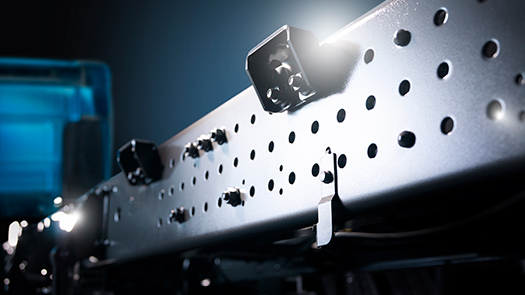 The ideal base
Using high quality steel, the chassis superstructure is strong, stable and light. That means more fuel savings and payload for greater transport efficiency. What's more, the different components layouts for highest flexibility would delight the body builders.
Robust and light
Bodybuilder-friendly
Maximum flexibility
Ultra-compact EAS unit
Excellent Safety & comfort
The DAF XF is equipped with multi-features to ensure highest possible safety of the driver and other road users, tailored to your business needs for the best fuel economy, comfort and total cost of ownership.
Adaptive cruise control
Lane departure warning system
Advanced emergency braking system
Forward collision warning
City turn assist
Silent version
Total transport solution
Pure Excellence in transport efficiency goes beyond the improved truck itself. A total transport solution through a range of professional services that enable you to select the right vehicle, reliable financing and maintaining your fleet at maximum efficiency.
MultiSupport
PACCAR Parts
Financial & Insurance
Driver Academy